Description
Please join the distinguished faculty of Western University of Health Sciences, College of Dental Medicine as they present the live Webinar Series, "Guardians of the Oral Cavity." This four-part, live series will be presented via Zoom. Each session is 1.5 CE units for a total of 6.0 CE.  This program will explore four facets of dentistry that can have a profound impact on a person's long-term health:  A review of identifying potentially malignant lesions, Oral Pathology for everyday practice, pearls to enhance radiographic diagnosis, and dental management of medically compromised patients. Awareness of these aspects of dentistry in everyday general practice might literally save your patient's life. This course has been presented to overflow audiences for the last 5 years at CDA Presents in Anaheim and San Francisco.
This course will cover the first session of Guardians of the Oral Cavity: Red and White, Oral Potentially Malignant and Malignant Lesions
This is a live webinar that will take place on Thursday, November 5th from 5:00 pm – 6:30 pm PT
CE Units: 1.5
Course Summary:
This course presents a variety of oral medicine clinical cases with a focus on oral mucosal pre-malignant and malignant lesions. It highlights the importance of early detection and treatment modalities. It provides a comprehensive review of conventional tactile and visual examination versus a screening in a clinical setting and effectively communicating with patients about oral cancer. It offers clinicians a comprehensive approach to better document clinical findings, roles of adjunct diagnostic tools and developing proper differential diagnosis prior to management or referral to an Oral Medicine Specialist. It discusses the role of an oral health care provider in educating patients about the head and neck HPV infections and vaccination guideline.
Educational Objectives:
Discuss the role of screening versus conventional visual and tactile examination in a clinical practice
Identify features of oral potentially malignant and malignant lesions with an emphasis on oral red and white lesions
How to construct a differential diagnosis list
Educating and counseling patients regarding your clinical findings, management options and referrals
Review the role of adjunct diagnostic tools in your everyday practice
Discuss the role of HPV infections in the oral cavity and prevention options
Presenter / Facilitator Information: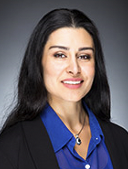 Dr. Sahar Mirfarsi grew up in Los Angeles and completed her undergraduate studies with honors from California State University, Northridge. She then attended the University of California, San Francisco (UCSF) where she received her Doctor of Dental Surgery degree. She completed her General Practice Residency (GPR) at the VA San Francisco and began practicing dentistry in Los Angeles. She served as a Clinical Assistant Professor at Herman Ostrow School of Dentistry of USC as well as a Staff Dentist at Keck School of Medicine of USC, Department of Maternal, Child, Adolescent Center for Infectious Disease and Virology. She was appointed as lecturer at the University of California, Los Angeles (UCLA), Department of Oral Diagnosis, Medicine and Orofacial Pain in 2014.  She completed her Oral Medicine Residency at the University of Pennsylvania, School of Dental Medicine (UPENN). She is a fulltime faculty, Assistant professor, and Co-Coordinator of Advanced Oral Diagnosis Workgroup at Western University of Health Sciences, College of Dental Medicine. She also maintains a private practice in Oral Medicine and Orofacial Pain in Mission Viejo California. Her focus is on the management of oral mucosal disorders, temporomandibular joint disorders, facial pain, and salivary gland dysfunctions.